Are you interested in expanding your knowledge of Agile and Scrum, or is your organization about to embark upon an Agile transformation? You may have heard about the various Agile approaches, including Scrum, SAFe, Disciplined Agile, and more. It can be challenging to determine which framework is best. The decision determines the training and PMI certification journey your team will need.
Many organizations choose SCRUM and the potential team servant leaders focus on getting a CSM certificate, proudly proclaiming that they are now a certified Scrum Master. Many have succeeded and some have failed. The failures are usually due to a lack of proper training and not getting everyone to embrace the Agile Mindset. And SCRUM requires that you follow a prescribed process and ceremonies correctly; this locks you into your choice.
PMI now offers an exciting new choice. The Disciplined Agile certification paths offered through PMI's Authorized Training Partners (ATPs) require the study and rigor we have all come to respect from PMI.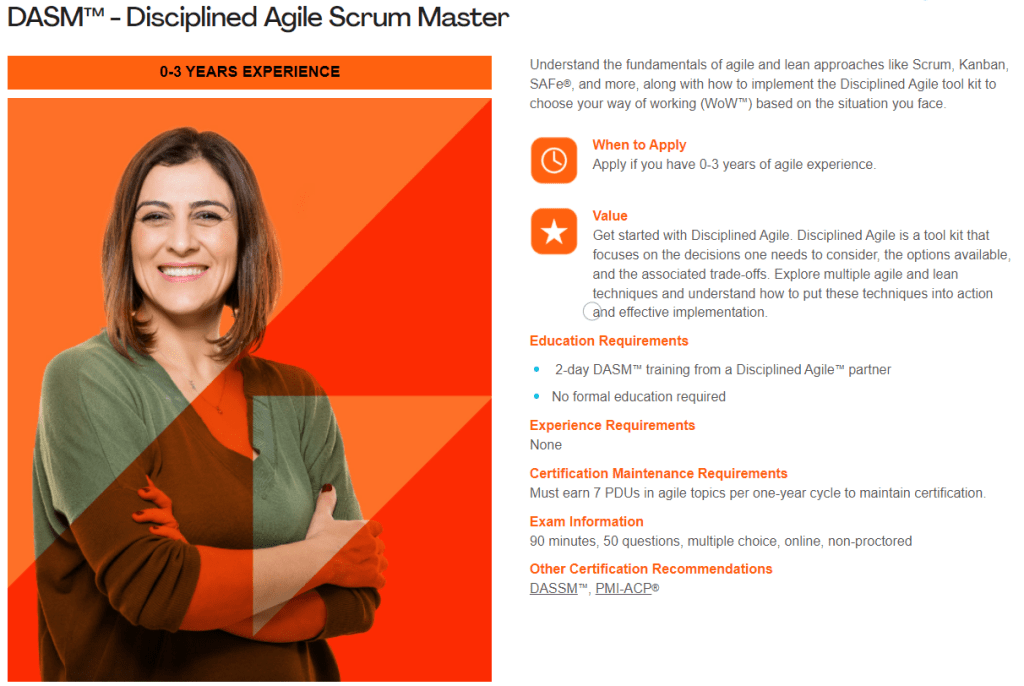 Why choose Disciplined Agile?
The new Disciplined Agile Scrum Master (DASM) certification has no prerequisites, opening new opportunities to less experienced Agile practitioners. This is a great reason to learn more about the Disciplined Agile offering.
Navigating the DA framework is easy when you use the innovative DA Browser tool. As you learn, you and your team have the power to choose your own customized "Way of Working", or WoW. Not all organizations are the same. Some may not need or want everything that comes with a specific Agile framework. The DA Browser is an easy way to zero in on your best methods of working. Therefore, its a simple roadmap of options to consider as you select your best way of working.
If this sounds good, how do you get started? Working with an Authorized Training Partner (ATP) of PMI is the way to get the official training you need. With the Peak trainer team, our certified expert instructors share their knowledge of Disciplined Agile, how to apply that experience to your specific work environment, and how to get your DASM certification.
What's Included with Peak
Our comprehensive exam prep course on Disciplined Agile includes:
Welcome kit
14 hours of Disciplined Agile live instructor-led class
Facilitated and mentored self-directed learning with milestones and homework
Digital slide decks and access to recordings for 60 days following the training
A Certificate of completion which meets the education requirement for the DASM®
The Current best practices as defined by the Project Management Institute (PMI), the official DASM® curriculum and Disciplined Agile tool kit to discover the best way of working (WoW)
One DASM® exam voucher, to be redeemed within 60 days of course completion
14 Professional Development Units (PDUs) available for existing PMI certifications
Upcoming DASM classes
Visit https://peakbusiness.org/disciplined-agile/ for upcoming classes. (PMI members, please ask about member discounts!)
Helpful Links
Article written by Dan Gormley (PMI-PMP/ACP, Certified Agile Coach) Dan is a contributing member of the Peak Business Management Trainer Network.